Functional and robust washbasin taps from Armatron
Whether in public spaces, offices, companies or kindergartens - washbasins are indispensable components of every sanitary room. With washbasin taps from Armatron, you order quality made of robust materials that leave nothing to be desired in terms of variety. You can use classic single-lever mixers or resort to sophisticated, automated solutions to give your washroom project a modern look. Thanks to the production from high-quality materials such as stainless steel, all our models offer a high load-bearing capacity and are therefore ideally suited for installation in publicly accessible sanitary rooms. But functionality is not everything. Some of our products are available in different colour nuances, giving every room an individual look. At Armatron, you will find the right washbasin fitting for every bathroom concept.
Frequently asked questions
Which fittings match my washbasin?
Can I install washbasin taps myself?
What are your shipping conditions?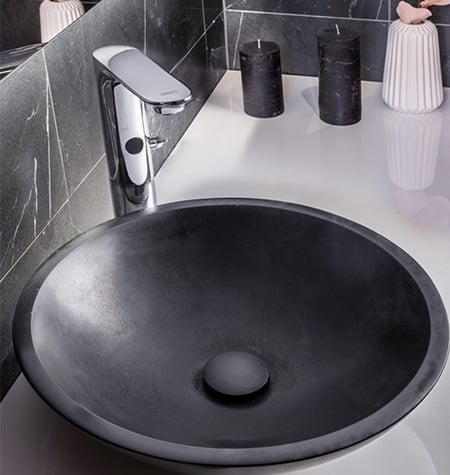 Manual operation vs. sensor
No washbasin can do without a matching tap. In view of its frequent use, it should not only be visually attractive, but also meet the highest requirements in terms of functionality and resilience. In the Armatron range, you will find the right model for every need, made of robust materials, which will fit stylishly into your bathroom concept. With self-closing mixer taps, for example, you get an adjustable flow rate at the touch of a button and can adjust the temperature yourself using a steel regulator attached to the side. In comparison, a stainless steel electronic basin valve allows you to dispense water without any actuation at all. The water only flows as long as a hand moves within the active sensor range. The run-on time can be individually adjusted and a mechanism is embedded that prevents deliberate waste by forcibly shutting off the water flow after about 5 minutes. Whether you are looking for a standpipe cold water valve, a single-lever mixer or a sensor valve, you will undoubtedly make the right choice for your company when you buy from Armatron.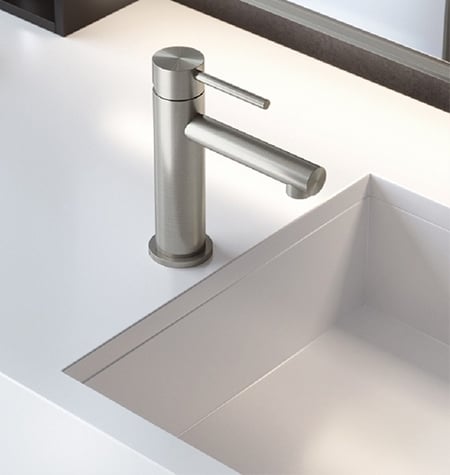 Washbasin tap for floor mounting or wall tap
In contrast to a wall-mounted fitting, a free-standing fitting is not installed directly in the wall but mounted on the washbasin. The advantage is that no major work needs to be done on the wall and thus the costs remain scalable. With wall-mounted fittings, the installation of the incoming water pipes is sometimes a challenge. Nevertheless, it is worth considering this option as well, since the visual effect should not be underestimated. In addition, wall-mounting offers more room to move around the basin and thus creates a comfortable user experience. Wall-mounted washbasin taps are ideal for kitchens and such work areas where a washbasin is to fulfil versatile tasks. In the Armatron online shop, you will find the right washbasin taps for every desired function and design.