Contactless electric taps from Armatron
An electric tap makes sense everywhere. As soon as you are outside your own four walls, you want to touch as little as possible. Especially objects that are used by many strangers seem unhygienic. When visiting restaurants, businesses and anywhere else where you can wash your hands, the installation of an electric tap is helpful. Contactless taps ensure seamless hygiene when visiting public and busy washrooms. At the same time, an electric tap helps you save money. This is because the water only runs as long as the hands are held under the tap. For example, the water flow stops when you lather up. This saves more than 50 percent water compared to conventional taps. In this way, you not only contribute to reducing water consumption, but can also save noticeably on costs.
Frequently asked questions
How does an electric tap work?
How much electricity does an electric tap consume?
How does the shipping work?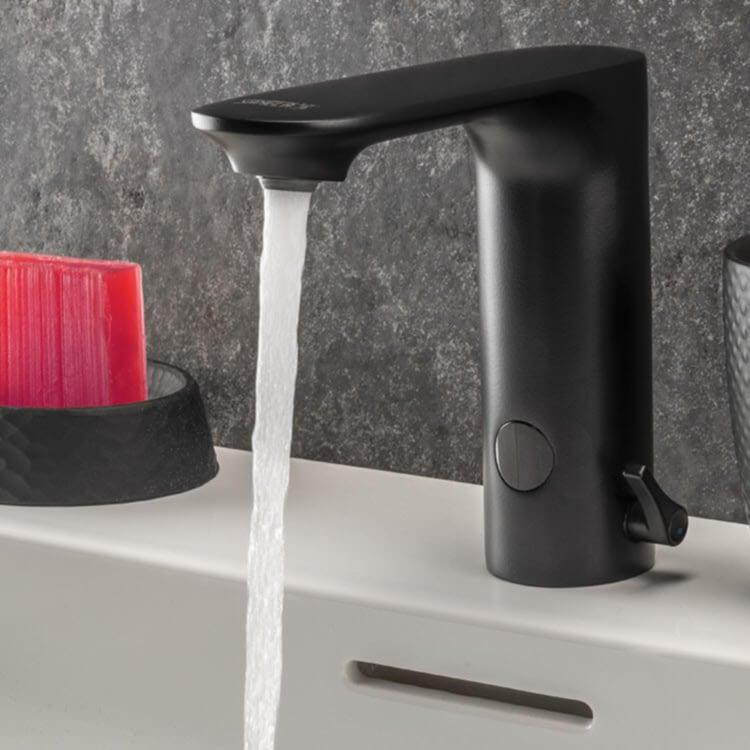 Electric taps for everyday use
Depending on the model, our electric taps can either be mounted on the washbasin or directly on the wall. Our Washbasin mixer with sensor is suitable for mounting on the washbasin. It works electronically with a mains adapter and has a temperature lever for temperature adjustment so that the user can determine the water temperature himself. Our Electronic water fitting, for pre-mixed water, will mounted on the bathroom wall. The tap can be operated with battery or mains adapter and is suitable for dispensing cold or mixed water. In addition to the classic silver, we also stock several taps in sophisticated black such as the Electronic mixer tap BLACK BINOPTIC MIX. The long and ergonomic mixing lever provides an adjustable hot water supply, and the body of the tap is made of chrome-plated brass. No matter what kind of bathroom you are planning, you will find the right product among our more than 130 electric taps.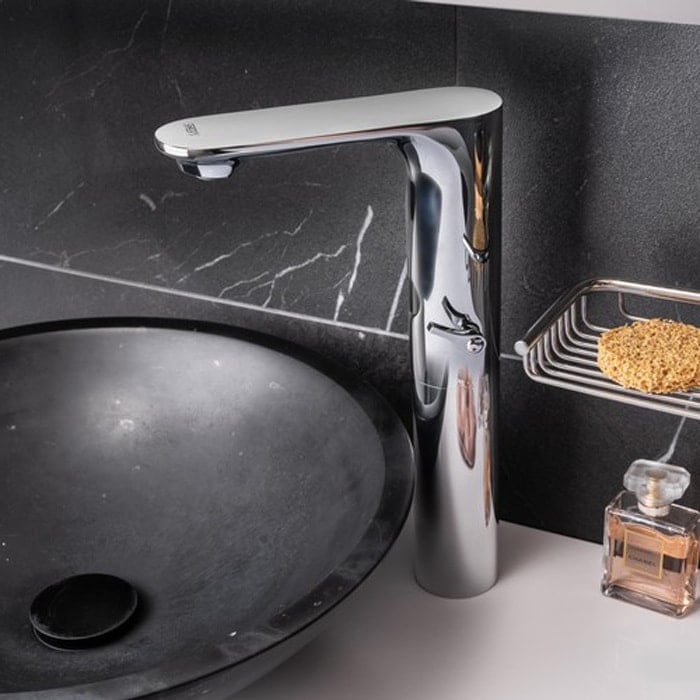 Quality and durability with our fittings
In addition to design, quality is particularly important to us at Armatron. Electric taps in public spaces have a considerable user frequency and are accordingly subject to heavy use. They are subject to high wear and tear and in some cases even vandalism. We deliberately avoid cheap processing and plastic, because our products should function for years without compromise. That is why we use brass and stainless steel for the material of our electronic taps, which combine stability and functionality with a timelessly elegant look. In addition, we put our products through their paces to ensure that they meet the high demands of the Swiss market. Feel free to contact us with any further questions, we look forward to helping you choose your electric tap.