High-quality and robust washbasins from Armatron
Functional and visually appealing washbasins are the focal point of every washroom and toilet. This applies equally to the guest area as well as to internal rooms that are reserved for employees only. With the right washbasin from Armatron, you can create a real eye-catcher. Our built-in and top-mounted washbasins in various designs enhance any sanitary room in a way that cannot be overlooked. With the processing of high-quality stainless steel, we create highly robust washbasins in different categories, which are almost indestructible. Our coated top basins are particularly elegant and eye-catching. Also made of stainless steel and coated with Teflon in black matt, these are placed on table tops and are excellently suited for wall-mounted and raised fittings.
Frequently asked questions
What is the difference between a washbasin and a vanity unit?
What types of washbasins does Armatron offer?
What do I have to bear in mind when wall-mounting washbasins?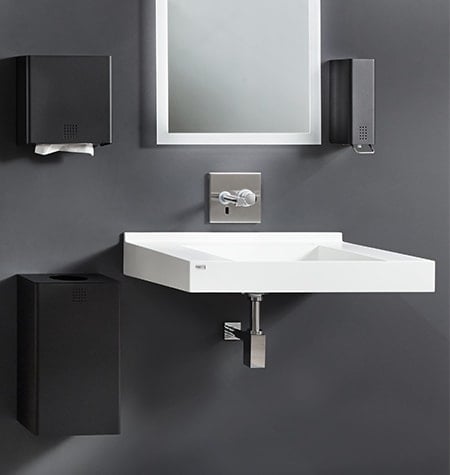 Washbasin vs. washstand
The purpose of the washroom or toilet room you are planning is decisive for selecting the right type of washbasin. If the interior is to create a rather stylish ambience, the classic wall-mounted washbasin is recommended. A variety of coatings can be applied here to set colour accents and give the room an individual design. With washbasins from Armatron, nothing stands in the way of your dream bathroom in terms of design. At the same time, you will also find the right model in our range for in-house sanitary rooms (e.g. in production or workshops). Washbasins have the decisive advantage that they can be used by several people at the same time. This significantly reduces waiting times in and in front of sanitary rooms, especially when there is a high frequency of use.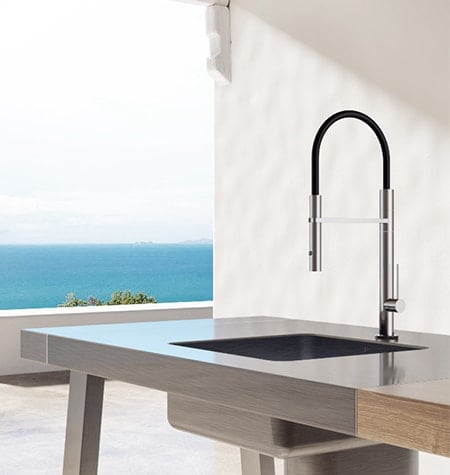 Stainless steel washbasin - hygienic and functional
Stainless steel is commonly popular as a wonder weapon when it comes to combining resistance, durability and elegance. But did you know that stainless steel is also 100 % recyclable? Unlike ceramic, this makes stainless steel the ideal material for manufacturing washbasins. Every bathroom has its own characteristics - and the same applies to sanitary rooms in public spaces. The various shapes of washbasins that you can find at Armatron all have one thing in common: Reliability. Uncomplicated to clean and hardly susceptible to wear - that is the claim to which Armatron is committed. Create a long-lasting added value with an eye-catcher guarantee and receive the thanks of your guests and staff.