CHF

433.00 -

CHF

1,794.00 excl. VAT.
Buy safe bathroom mirrors at Armatron
When washing our hands or brushing our teeth, we practically always use a bathroom mirror - to fix our hair, for a quick shave or to apply make-up. Depending on the type and purpose of your washroom, you will find professional solutions in our range that leave nothing to be desired. At Armatron, you order robust designs with exceptional safety features. Solid wall mountings and highly resilient materials ensure that nothing will break so easily and that there is no risk of injury. Using the highest grade stainless steel and mirror glass, many of our bathroom mirrors are delivered as shatterproof and vandal-proof. If you are looking for mirrors for public spaces and have to fear vandalism, then Armatron is the right choice for you.
Frequently asked questions
How big should a bathroom mirror be?
Where are the mirrors made?
What are the shipping conditions?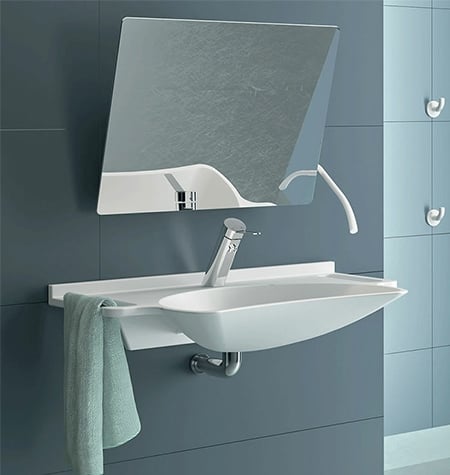 Classic mirror vs. tilting mirror
Washrooms and WCs used by the public often have specific requirements. Bathroom mirrors mounted vertically on the wall are the classic solution. However, accessibility factors must always be taken into account. Standardised height and vertically mounted mirror surfaces pose uncomfortable challenges for people in wheelchairs, for example. Our tilting mirror products provide a remedy. This form of bathroom mirror can be adjusted to the desired inclination as required by means of a handle or lever. Mirrors with a tilt function that are firmly anchored in the wall thus also enable people with special needs to enjoy an all-round comfortable user experience without having to make any safety-related compromises. When choosing the right model, you should always consider the individual requirements of your users.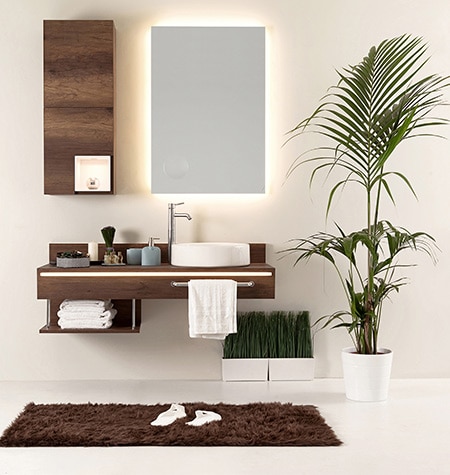 It can also be a bit of luxury
The standard bathroom mirror products impress with their classic mirror function and familiar design. If you have a more modern, futuristic ambience in mind, then you should take a closer look at our washbasin-mirror combinations. In these all-in-one models, you will find all the conveniences combined and at the same time create an unmistakable added value in terms of functionality and design. Everything that a bathroom can offer in terms of comfort is brought together in a minimalist housing. Bathroom mirror, electronic soap dispenser with sensor, hand dryer, LED lighting and vandalism protection leave nothing to be desired. Built-in gadgets and ingenious valves ensure low detergent consumption and the necessary hygiene. Our combinations impress with innovation and design in equal measure. Bring the future of the bathroom mirror into your sanitary facilities, because a little luxury never hurts.