Barrier-free bathroom: Taking responsibility
In addition to level floors and sufficiently wide doors, the equipment of washrooms should also be designed to meet special needs. With Armatron, you have found the right partner if you are looking for the right equipment for a new building, partial renovation or bathroom conversion. With a view to accessibility, we have a whole range of useful designs that can be wonderfully integrated into your premises. Folding bathroom mirrors are firmly anchored to the wall and can be adjusted to the desired angle in no time at all. Our matching FRAJU Washbasin which, with their rounded edges, are ideal as washbasins for users with limited mobility. In the WC, shower and bathtub areas, our grab rails, folding support rails and handrails made of stainless steel provide a secure hold when standing up and standing. They thus facilitate use and provide valuable assistance in accident prevention.
Frequently asked questions
What does a barrier-free bathroom have to look like?
How big does a barrier-free shower have to be?
How does the shipping work?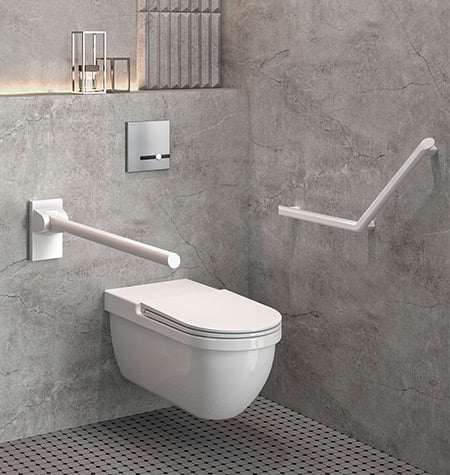 Versatile lightening made of steel and aluminium
The majority of requirements for accessible bathrooms focus on the issue of safety. Our robust aids facilitate the unrestricted use of the sanitary facility and, with their special features, avoid the risk of injuries as a result of a fall. Our grab rails are made of stainless steel or aluminium and have been tested to withstand loads of more than 200 kg. Our angled handles offer a double benefit, as their angled shape provides support both when standing and when standing up. They are therefore ideally suited for installation in WCs, showers and bathtubs. Since access to the shower and bathtub requires a great deal of effort from some users, our shower seats can provide a remedy. These can be folded in after personal hygiene or, if necessary, removed completely. Which article you choose when planning a barrier-free bathroom should depend in detail on the needs of the future users.
Safety is paramount
Many of our handles are made of high-quality, recyclable stainless steel. They are firmly anchored to the wall with stainless steel screws and can thus withstand the strongest stresses. The grab rails are designed with a 40 mm gap between the wall and the handle so that you cannot get your forearm stuck. In this way, the risk of a fall can be drastically reduced once again. Our handles and handrails are made of solid aluminium with a material thickness of 3 mm. The rounded profiles provide a firm grip and prevent you from twisting your hand on the handle. With a similar distance to the wall as our stainless steel models, they also offer practical protection against getting stuck. All our holding aids have proven themselves in load tests with more than 200 kg.