Buy folding changing tables at Armatron
At Armatron, three factors are decisive for a foldable changing table. First and foremost are safety and comfort. These are ensured by integrated gas pressure springs for child's play opening and closing on every model. The robust steel hinges on the angles of the changing mat ensure long-lasting stability. Hygiene and antibacterial protection follow in the list. Thanks to the easy-care plastic surface, cleaning can be reduced to an effective and time-saving wipe-down. All models are equipped with a durable antibacterial MICROBAN® finish. The third factor is that they can be used in all areas. They can be universally integrated and do their job reliably wherever there are washrooms.
Frequently asked questions
Why is a changing table necessary?
What are the dimensions of the Armatron changing tables?
How does shipping work at Armatron?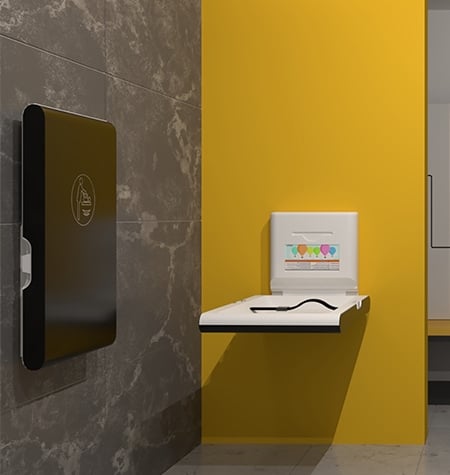 Proper equipment is the be-all and end-all
When you buy from Armatron, you are choosing the optimal and space-saving solution for your sanitary area. With modern design and good workmanship, our models have been convincing for 30 years. For our folding changing tables, we give you the choice between plastic and stainless steel. In addition, surface-mounted versions are available as well as versions for wall installation. The classic among the changing tables in our range is the Koala Kare Vertical Changing Table. This is made of a high-density polypropylene and thanks to the MICROBAN® antibacterial coating, this reduces the formation of bacteria and mould. The gas struts ensure that it can be folded up and down in no time at all. Equipped with a dispenser for suitable changing pads as standard, they offer customers optimum handling. For safety, all models are equipped with a safety belt to get ahead of a potential source of danger.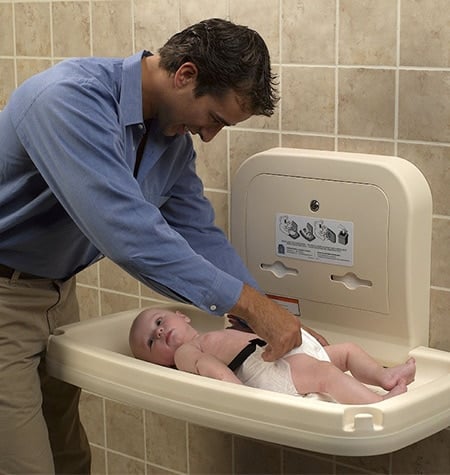 The changing table and its raison d'être
As a rule, it is safest for parent and baby to perform the changing process on the floor. In this way, the baby can kick or do gymnastic exercises the whole time without risk of falling off. In public areas, however, the situation is quite different. No parent wants the baby to have to lie on a dirty floor to be cleaned. Wall-mounted changing tables are also very easy on the back. Recommendations from manufacturers are that they should be mounted on the wall at a height of at least 85 to a maximum of 92 cm. If you have any questions about your order or products from our range, we look forward to receiving your enquiry via the contact form.