Buy waste bins and cosmetic bins for the bathroom at Armatron
Bathroom bins don't always have to look the same. A lot has also changed in terms of functionality. Free-standing pedal bins with pedal are certainly familiar to you as a tried and tested classic, but there are exciting alternatives. Visually appealing variants always promise to discreetly upgrade any bathroom or washroom. You should always keep in mind the requirements of the users. In large sanitary rooms with high usage, it is better to opt for several small bins instead of just one large one. Armatron manufactures a wide variety of designs and capacities in stainless steel. This means you benefit from robust materials and can put together the variants of bathroom waste bins that are actually needed, according to your needs. In this way, you ensure that the waste goes where it belongs.
Frequently asked questions
Which size should I choose?
Do I need special waste bags?
How many litres does a bathroom waste bin have?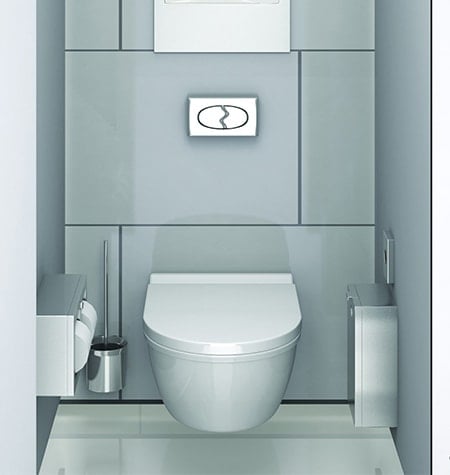 Floor standing vs. wall mounting
Planning a washroom or bathroom can present challenges. Making the right decision is usually not as easy as one might think, as many factors have to be taken into account. Especially washrooms accessible to the public are often exposed to the risk of vandalism. With our freestanding bathroom waste bins made of stainless steel, you are choosing exceptionally resilient and robust materials. You can go one step further in the direction of vandalism protection with the wall-mounted models. These are sturdily anchored to the wall with stainless steel screws, guarantee maximum theft protection and are still easy to clean. With the matching swing lid made of stainless steel, the result is an all-round attractive eye-catcher.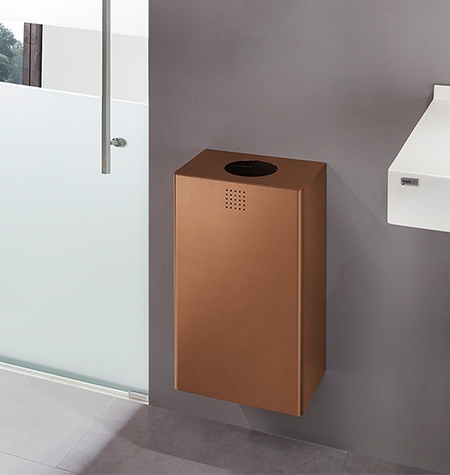 Bring design into your bathroom
When it comes to washrooms and bathrooms, more and more attention is being paid to design. The times of purely functional spaces, completely free of uniform atmosphere, are over. We are aware of this fact and develop our bathroom waste bins under the premise of bringing together modern design with innovative functionality. Stainless steel lends itself particularly well, as it is highly resilient, durable and easy to clean. Free-standing waste bins made of matt brushed stainless steel leave a noble classic look, while wall-mounted bathroom waste bins made of stainless steel with a coloured PVD coating give the room that certain something extra.