Buy Disinfectant Dispenser with Sensor or Lever at Armatron
There are no limits to the areas of application. Our high-quality products are mostly made of stainless steel and, depending on the design, can be operated manually with a lever handle or completely contactless via an electronic sensor. You can mount our disinfection dispensers permanently on the wall, on stations or columns or connect them to hidden tank containers under the washbasin or behind a mirror. The inconspicuous built-in locking technologies, which effectively protect against vandalism, offer a special added value. Some models with a low-waste dosing pump or dosing adjustment also make it possible to keep consumption costs additionally scalable. In terms of design, we have the right disinfectant dispenser for every taste and every requirement - whether in a classic, timeless stainless steel look or coated in paint.
Frequently asked questions
How often do disinfection dispensers need to be cleaned?
How do I refill disinfectant?
How high must a disinfectant dispenser hang?
How does the shipping take place?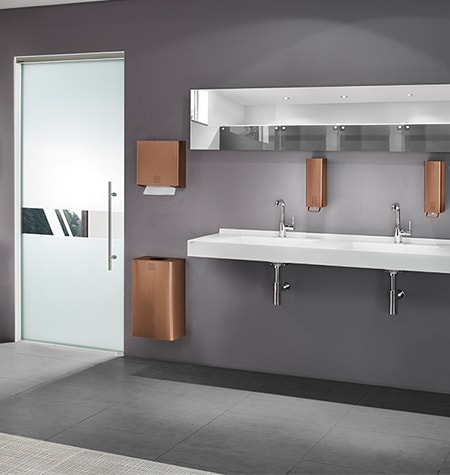 Robust materials make the difference
If disinfectant dispensers are installed in public areas, they are also increasingly exposed to wear and tear and vandalism. In shops and public sanitary rooms, it can often happen that damage occurs or disinfectants are overused or even stolen. With our products, this is a thing of the past. All models are made of high-quality and resilient materials such as stainless steel and are usually secured with locking techniques to prevent unauthorised removal of the tank containers. Sturdy mounting directly on the wall provides further reliable protection against damage and theft. Our disinfection dispensers are designed as robust all-rounders and fit into almost any environment in their various designs.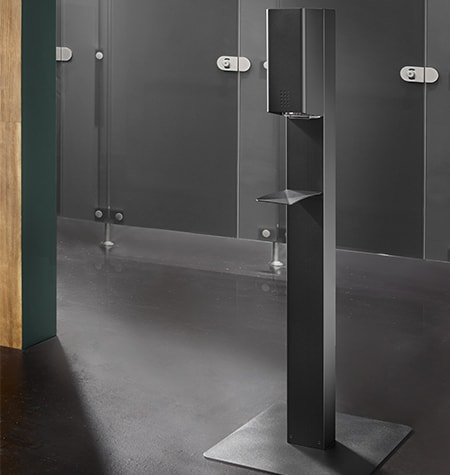 Your fellow human beings will thank you
In addition to places such as hospitals or doctors' surgeries, where disinfectants can already be found anyway, the need for them in companies, offices and shops is also increasingly coming into focus. Wherever large numbers of people are literally passing each other's hands, the availability of disinfectant dispensers ensures a general feeling of well-being. Take advantage of this and increase the satisfaction of your employees, customers and visitors by installing our products. A stylish disinfectant dispenser in the entrance area makes just as good an impression as a hygienically high-quality WC. You will find the right model for you and your needs in our Armatron range.