Buy practical cosmetic tissue dispensers at Armatron
It is not only an advantage to have individually removable tissues at hand when you have a cold. Cosmetic wipes are also practical when applying make-up or wiping up drops of water. Dispenser systems for cosmetic and facial tissues are ideal for hygienic and easy removal of the tissues. In the cosmetic tissue dispenser, the tissues remain dry and are protected from soiling. At the same time, the dispenser ensures that hands do not come into contact with the box or other wipes. By dispensing individual wipes, you also save on the product. Our dispensers are wall-mounted and therefore cannot be lost or damaged. Conventional cosmetic tissue boxes can be easily inserted into our cosmetic tissue dispensers. No matter what the cosmetic tissues are used for, the purchase of a dispenser always makes sense.
Where do you place a tissue dispenser?
Where do you place a tissue dispenser?
How can a cosmetic tissue dispenser be filled?
How do I not miss any news from Armatron?
Cosmetic tissue dispenser from the full-range supplier
Offer users something and make the washroom as comfortable as possible. Loose cosmetic tissue boxes, however, get lost quickly and are not a piece of jewellery from a visual point of view. It's a different story with our cosmetic tissue dispensers. They enclose the box, protect it from moisture and dust and also blend visually into the overall concept of the room. Our PROOX facial tissue dispenser (cosmetic tissue dispenser) is compatible with all commercially available cosmetic tissues. Mounted on the wall, the dispenser is protected and takes up little space. You can choose between models made of aluminium or stainless steel, depending on what suits your space better. To ensure that there is a suitable item for every bathroom, you can also choose between six different colours.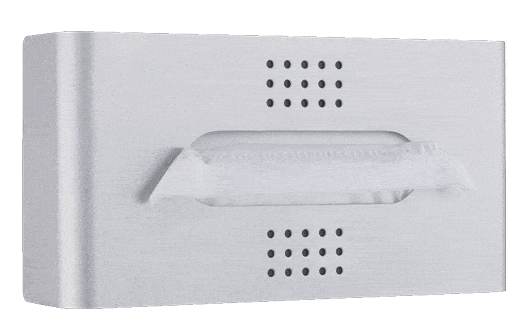 Quality is a top priority for us
For over 30 years, we at Armatron have stood for concentrated washroom expertise. We are one of the leading full-range suppliers of high-quality stainless steel sanitary accessories and a proven partner for architects and sanitary planners when it comes to public facilities. With our experience and knowledge, we work tirelessly to optimise and further develop our articles. Quality is very important to us, as the demands on our products in daily use are very high. Accordingly, we are very careful in the choice of our suppliers and, as a supplement, we also produce articles ourselves or adapt them to the demands of the Swiss market. You can admire the result on our website. We are proud of the diversity in our range and offer you a comprehensive product range that meets the highest demands.