Your stainless steel sink at Armatron
Whether in education, in gardening and landscaping, in industry or quite pragmatically in the hobby cellar: With a stainless steel sink from Armatron, you order a functional and hard-wearing alternative to the conventional sink. Depending on stock and product type, we deliver our washbasins with different depths, with or without splashback within 2 working days after handover to our shipping partner. Thanks to the processed material stainless steel, you are choosing a robust, versatile and durable everyday companion. The versatility of a stainless steel sink speaks for itself, but with it come different requirements in terms of size, shape and design. Discover our range and order the right sink for your individual needs today.
Frequently asked questions
What material is in the Armatron sinks?
Which sink accessories are recommended?
How do I prevent rust on my sink?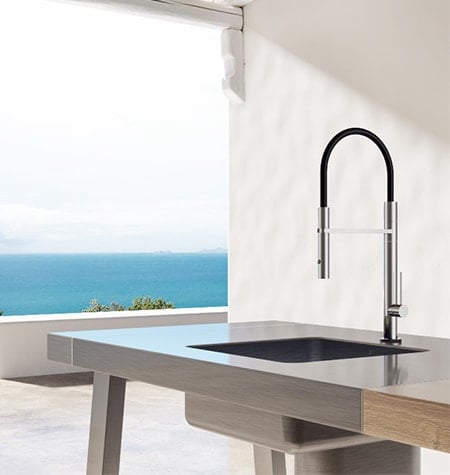 Fully equipped with the right accessories
As a proven partner for architects and sanitary planners, we have been able to acquire concentrated washroom expertise over the past 30 years. That's why we know that not every washroom is the same. Starting with different conditions for installation options, through the size and shape of the trough to the right mixer tap. For a hand washbasin, we recommend the Self-closing valve TEMPOSTOP with swivel spout and wall mounting. With an average running time of 15 seconds and an adjustable flow rate of max. 6 litres per minute, you can achieve water savings of up to 85 %. To be able to fill pots quickly and without water loss in large kitchens or buckets in cleaning businesses, a more practical solution is needed. Here we advise you to use the Wall-mounted two-handle mixer with swivel spout on top to fall back on. Equipped with ergonomic and shock-resistant ball handles and a flow rate of 45 litres per minute, order a reliable partner just the way you want it.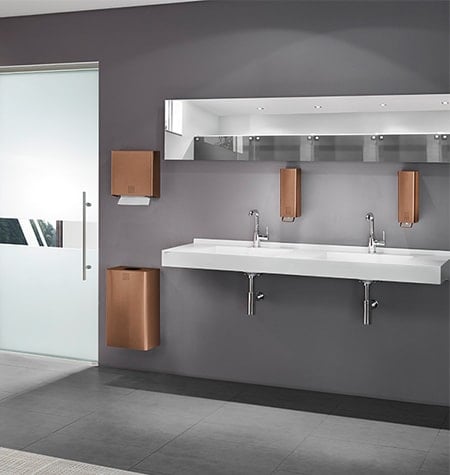 Your reliable partner Armatron
Our goal is to provide you with competent expert advice in all matters. For this reason, we are constantly optimising new products to meet new requirements. With over 30 years of experience in the washroom industry, we are fortunate to equip many Swiss facilities and companies. No space is too small for Armatron - compared to other complete suppliers, we are clearly ahead! In addition to shopping, our online shop should also serve as a source of inspiration and information. We do not only manufacture ourselves, but also offer products from renowned companies. In addition to Bobrick Washroom Equipment, these partners also include Koala Kare, PROOX and DELABIE. Discover the Armatron range online and order your everyday heroes of tomorrow today.